Chiller Systems
Chiller systems are a unique and very efficient way of to either cool a building or to bring cooling to a process for manufacturing.
Chillers are and essential HVAC-R component used in many commercial buildings such as hospitals, arenas, restaurants, hotels, schools. On the industrial side, manufacturing plants, process plants and a host of other larger sized industrial complexes almost always include a chiller system that is hard at work to maintain either ambient temperature or to chill a liquid.
One thing of note about chiller systems, is the amount of electrical energy required to run a chiller system is huge becoming the single largest user of electricity in most commercial and industrial buildings.
Basically a chiller transfers heat from an internal environment to an external environment. A chiller uses refrigerant to accomplish this task as it moves through the system. One can say that chillers are the heart of any central HVAC system as well as the heart of any process where a cooled or 'chilled' liquid is needed in any capacity.
We have an excellent article on how a chiller system works, including centrifugal chillers that will have you up to speed in just under five minutes.
Different Chiller Types
Most commonly, chiller systems are either air cooled or water cooled. This medium is either air or water to transfer heat across the condenser.
Air cooled condensers look similar to a radiator on your car. A blower is used to force air through a series of refrigerant lines. Generally air cooled condensers need ambient temperatures of 95°F or below to operate efficiently.
Water cooled condensers do the same thing as their air-cooled counterparts with the exception of an extra step to complete the heat transfer. First, the heat transfer process moves from the refrigerant vapor into the condenser water. Finally, the warm condenser water is pumped to a cooling tower where the process heat is ultimately discharged into the atmosphere.

Service and Repair of Chiller Systems
At B.I.M.S., Inc., our team of highly trained service technicians are available 24/7 to ensure your chiller is repaired quickly and correctly. B.I.M.S., Inc. currently services centrifugal, screw type, scroll type, and reciprocating type chillers.
We pride ourselves on giving quality service that is focused on ensuring longevity of the whole system, optimizing efficiency, and centering on the source of the problem versus only alleviating symptoms. Much like a doctor, we want to treat what's causing the fever rather than only treat the fever.
We also understand how precious keeping a business in operation is. Thus, if something goes wrong, we will work with you to get the problem resolved so that "down-time" is kept to a minimum.
If, worst case scenario, the chiller needs replacing, our team will work diligently to ensure the process is as flawless and as quick as possible. For any issue, B.I.M.S., Inc. has access to a vast network of distributors for parts and equipment (including those hard to find).
Helpful Chiller Resources
We service most major brands of commercial and industrial chillers. If you would like specific information on identifying chillers for Carrier, click here. Also, we have dedicated pages for Trane chiller repair and York chiller repair here.
Here is a great article if you would like to brush up on your knowledge of centrifugal chillers. If chiller maintenance is in your wheel house, then this is a great resource to bring you up to speed on the basics.
Finally, if you're debating on whether you should repair or replace your commercial chiller, then here is a must read article to get you pointed in the right direction. Process chiller basics are covered here in good detail and if you're wondering why you would require an industrial chiller, here's a great quick read for you.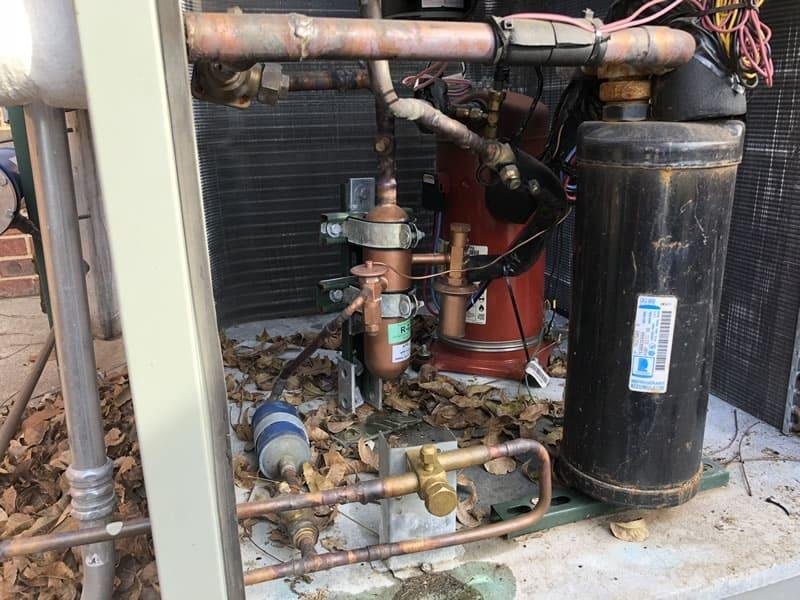 Chiller Performance
Keep your chiller system performing at its optimal level and help ensure its long life by having it properly maintained. This preventive maintenance keeps the chiller operating at peak efficiency, minimizes unnecessary repairs and down-time, and helps keep energy costs low.
This service keeps your system clean and in good working order. It also helps prevent smaller problems from becoming larger, more costly problems.
With preventive maintenance, we like to partner with our clients in order to provide options best for the situation and create custom solutions that fit your needs.
We understand the importance and adverse effects of having an operation down in the commercial/industrial realm and will thus work on comprehensive, systemic solutions to keep you up and running.
With every service call or project, our factory trained and professional technicians will thoroughly inspect and diagnose your situation for problems, consult with you on the course of action that works best for you, and make necessary repairs in a timely manner so you can avoid interruptions in service. We make sure to keep you in the loop every step of the way so you have peace of mind and avoid headaches for you and those you work with.
WHY CHOOSE B.I.M.S., Inc.?
B.I.M.S., Inc. has served the Dallas Texas and surrounding areas for over 40 years — we can handle the design, installation, repair and maintenance of Chillers, Boilers, Controls, VFDs, Pumps, Air Conditioning, Heating, Refrigeration, Process cooling and more.
Call us if you have any questions, and schedule a service call or consultation today.