Differences in Boilers
There are differences in boilers and how they heat water. Boilers are a way of providing warmth by heating water. This method can be used to deliver hot water (termed "domestic hot water boilers") or deliver warm air from fan coils that pass air across the hot water coils (coils are the piping containing the heated water from the boiler). The latter types are termed "steam boilers." Because the hot water piping can travel great distances, boilers are a preferred method of heating high-rise buildings or sites with numerous buildings or structures needing heat (such as apartment complexes, schools, college campuses, or industrial sites). Boilers can range from as small as only putting out 40,000 BTUs to as large as over 2 BILLION BTUs/hour!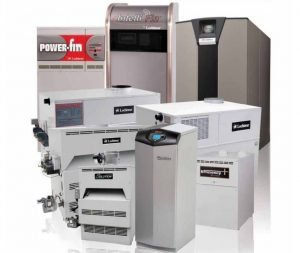 Service and Repair
At BIMS, our team of highly trained service technicians are available 24/7 to ensure your boiler is repaired quickly and correctly. We understand differences in boilers and how they work brand by brand and the differences for each installation. We pride ourselves on giving quality service that is focused on ensuring longevity of the whole system, optimizing efficiency, and centering on the source of the problems versus only alleviating symptoms. Much like a doctor, we want to treat what's causing the fever rather than only treat the fever.
We also understand how precious keeping a business in operation is. Thus, if something goes wrong, we will work with you to get the problem resolved so that "down-time" is kept to a minimum. If, worst case scenario, the boiler needs replacing, our team will work diligently to ensure the process is as flawless and as quick as possible. For any issue, BIMS has access to a vast network of distributors for parts and equipment (including those hard to find).
Performance
Keep your boiler system performing at its optimal level and help ensure its long life by having it properly maintained. This preventive maintenance keeps the boiler operating at peak efficiency, minimizes unnecessary repairs and down-time, and helps keep energy costs low. This service keeps your system clean and in good working order. It also helps prevent smaller problems from becoming larger, more costly problems.
With preventive maintenance, we like to partner with our clients in order to provide options best for the situation and create custom solutions that fit your needs. We understand the importance and adverse effects of having an operation down in the commercial/industrial realm and will thus work on comprehensive, systemic solutions to keep you up and running.
With every service call or project, our factory trained and professional technicians will thoroughly inspect and diagnose your situation for problems, consult with you on the course of action that works best for you, and make necessary repairs in a timely manner so you can avoid interruptions in service. We make sure to keep you in the loop every step of the way so you have peace of mind and avoid headaches for you and those you work with.
BIMS, Inc. has served the Dallas Texas and surrounding areas for over 40 years — we can handle the design, installation, repair and maintenance of Chillers, Boilers, Controls, VFDs, Pumps, Air Conditioning, Heating, Refrigeration, Process cooling and more.
Call us if you have any questions, and schedule a service call or consultation today.